Post by keith on Sept 28, 2015 19:13:58 GMT -5
So, I got my bullet making dies back the first week of August but I have been on the road/mountains/range/etc non-stop for the last month and half. This is only my 3rd weekend home since the middle of July and I spent all day yesterday trying to jump out of an airplane but the weather isn't playing nice. I was going to drive up and see Mike and meet Richard today but my wife has a puking bug I don't want to pass on in the event I have it. Instead, I made and tested some bullets.
Since the light bullets are the thing most of y'all requested I made some 300gn (the lightest I thought would stabilize) and shot them today. I barely beat a rainstorm off the range and while the Shoot'n'See target survived the rain the paper targets from the 100yds test didn't but I was able to rough measure them while they were still hanging.
I shot two groups of five at 100yds to see what was most accurate, wad or no wad, for this load. The load was 300gn BOMB, Fed 209A, and 10/50 duplex of VV N110/IMR 4198. The no-wad load shot a high of 2487fps, a low of 2473s, and had an SD of 7fps with a precision of about 1.3". The wad load shot a high of 2446fps, a low of 2437, and had an SD of 4.5fps with a precision of about 1". The wads shot better and I still had them out so I used them to do the drop test at 300yds. The load may seem arbitrary but it is one I have used before with very good precision in this rifle with 300gn MH bullets. I also knew it was on the lower end of velocity and with the 1-24" twist in this barrel would be the closest to instability I could push this bullet. If you haven't seen them before this is the 300gn variant (I will test the 340gn and 400gn variant in the coming months):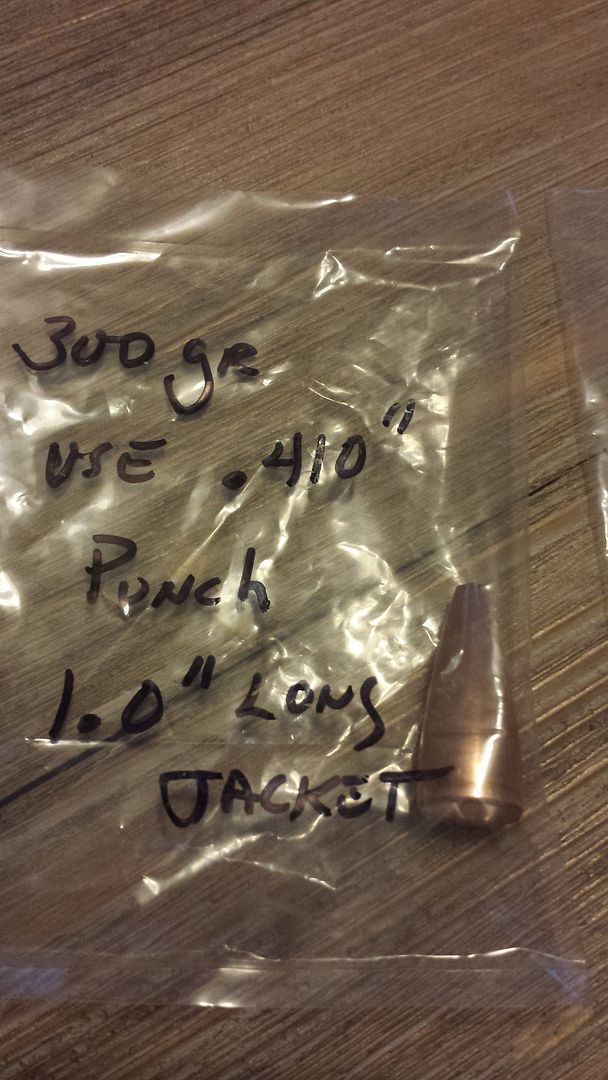 When I finished shooting my .30-30 Improved I hung it's target board at 300yds and put a 1" pasty a few inches from the top to use as my aim point so I could measure drop from a 100yds zero. Winds were picking up by the time I moved to 300yds and were from 3 o'clock at a steady 8mph with gusts to 12mph according to the Kestrel. These last three were loaded and shot with no break between as I knew a storm was about to hit:
The group is 3.11" outside to outside or 2.659" center to center for .846MOA. The group is only .62" tall which means with those low deviations it held .197 MOA for vertical. The reason I mention that is because it allowed me to very precisely measure drop at 16-11/16" (16.6875" or 5.312 MoA).
Things I can tell you about this bullet right now:
1: The bullet is short and fully stabilized from a 1-24" twist at 2440fps (just like it would be in a factory Savage) with stability factor of 2.324 at muzzle.
2: Using the MV and drop at 300yds it appears the G1 BC of this bullet is in the high .4s but I need to shoot further to see because that is hard to believe but it is what the calculator says based on drop.
3: It seems to be capable of sub-MOA precision and all I did was run it through my die as it is set for the MH bullet and pick a charge to test .