Post by keith on Nov 27, 2015 19:58:44 GMT -5
This part is a copy paste from Doug's and pretty well mirrors Bill's technique. At the end I'll add some work I usually do and when I pull it apart I'll show you something else I do that makes final fitting easier:
I have been slammed busy and haven't had a chance to shoot the gun that Jeff barreled for me recently. We have a four-day weekend in observance of Memorial Day so I have a chance to get some shooting and gun work done. I was going to shoot it yesterday but I didn't have a 1/2" socket that would fit inside of my bolt raceway. I wanted to go shoot, not to the store, so I grabbed a couple of pistols and my match rifle and headed to the range.
It's just as well that I chose other guns because the McMillan stock on this rifle is not good to go yet. As I mentioned in the Billy Goat Gruff thread, the inletting is a little off:
The pillars that McMillan installed are not square to the centerline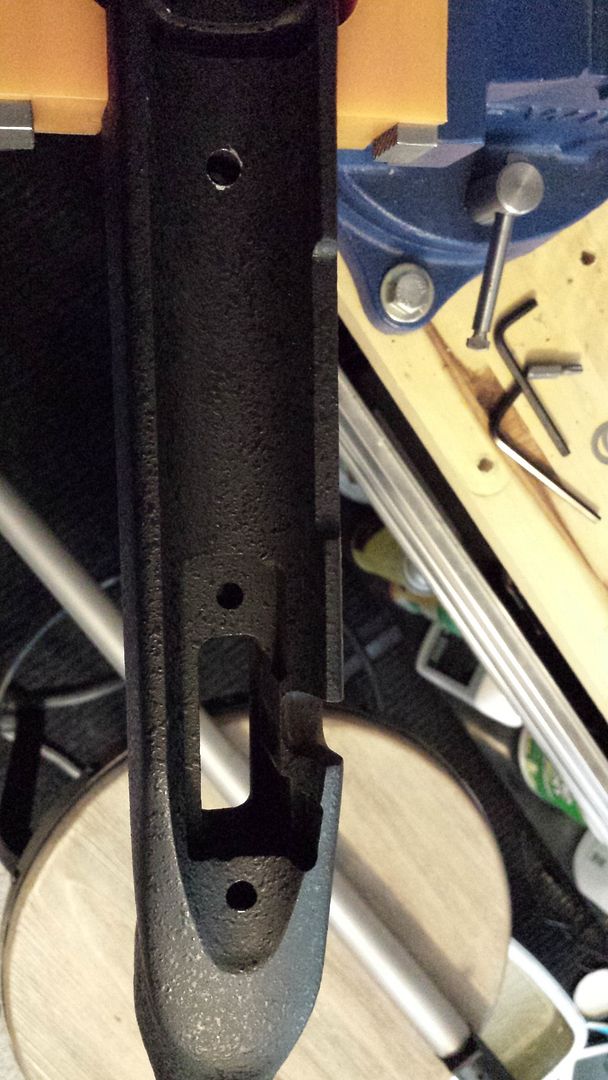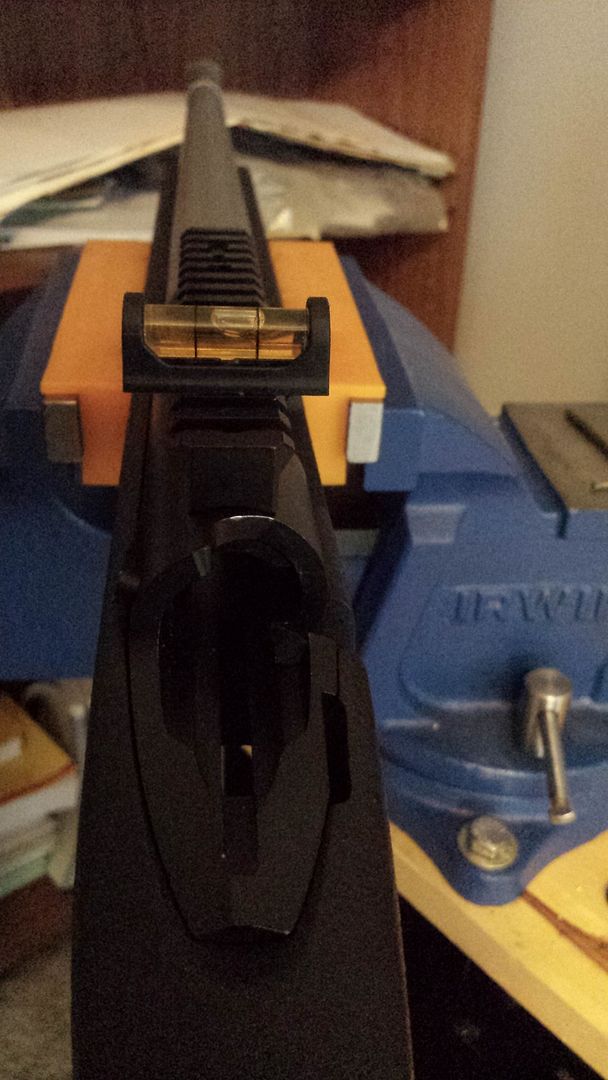 Someone asked in the other thread if the scope mount could have been off and I said cross-test levels said no. Here you can see that the same crooked pillars place the trigger significantly off center in the trigger well (not sure how well you can see it but it is noticeable, especially when the trigger guard is in place but is nearly impossible to photograph like that)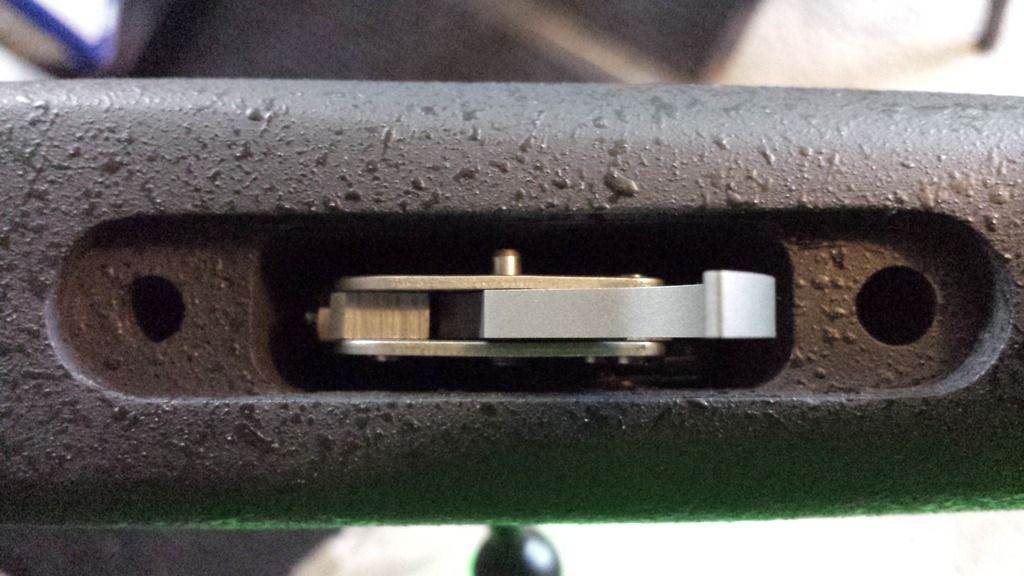 Last, but not least, is the trigger guard inletting:
I need to either mill off a portion of the guard at the top or deepen the inlet as the triggerguard is sitting proud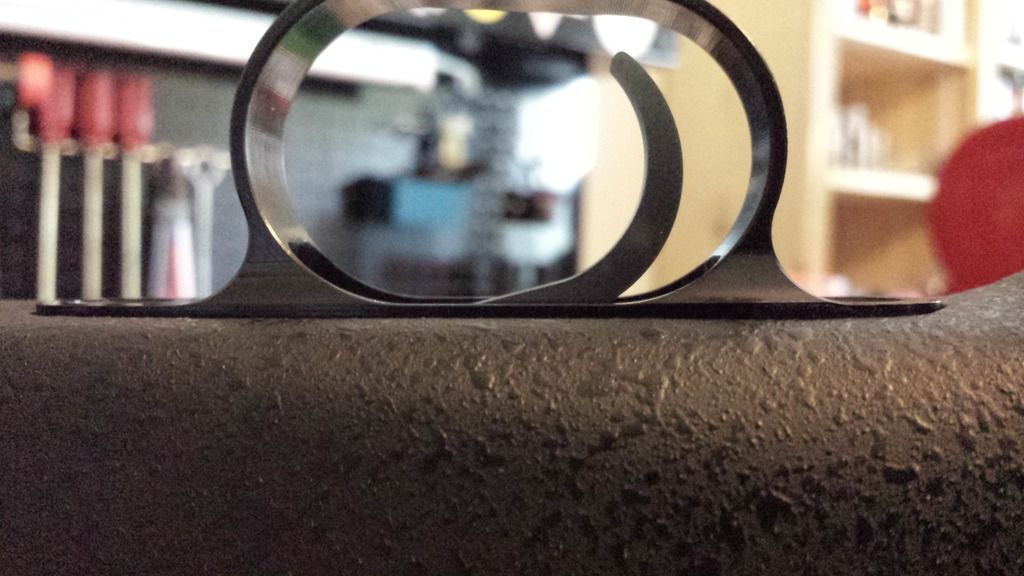 There is also a fulcrum somewhere because when you tighten (snug) the rear action screw the trigger-guard raises in the front (this is why I bed them with a bushing up front, to eliminate any stress by a trigger-guard screw)
Additionally, the stock had an ADJ LOP spacer kit on it which I removed and installed on a rimfire trainer. When I ordered a 1" Pachmayr Decelerator from McMillan, ground to fit an A2 spacer system, I received a pad for an A5:
The toe on the A5 is flat like a Boyd's Tacticool (only it is actually square, not bevelled like all the Tacticools I have seen) and the comb is polygonal instead of elliptical:
The screws were also too long to work without spacers; McMillan only has 3" and 3.5" screws
Their website says the screws are 1/4-20, which they are not, they actually are 10-24. I bought some 1.5" screws yesterday at the local hardware store, along with a box of .30-30Win for the Marlin 336 .30-30AI.
A quick call to Eileen a week or so ago got the issue fixed. She mailed out a new A2 pad that day and just said send her back the A5 pad. I installed it yesterday morning
While I will not use Shilen barrels, I do think they make good triggers. These are very good triggers that are less complicated than a Jewell and better suited to a field gun. This one is currently set at 1.5# while I do the testing with this gun. It will back up to 2.5# for hunting. I have had this one on a 7mm Rem Mag for testing but just changed it over to this gun:
It has no bolt stop/release as the action has an integral unit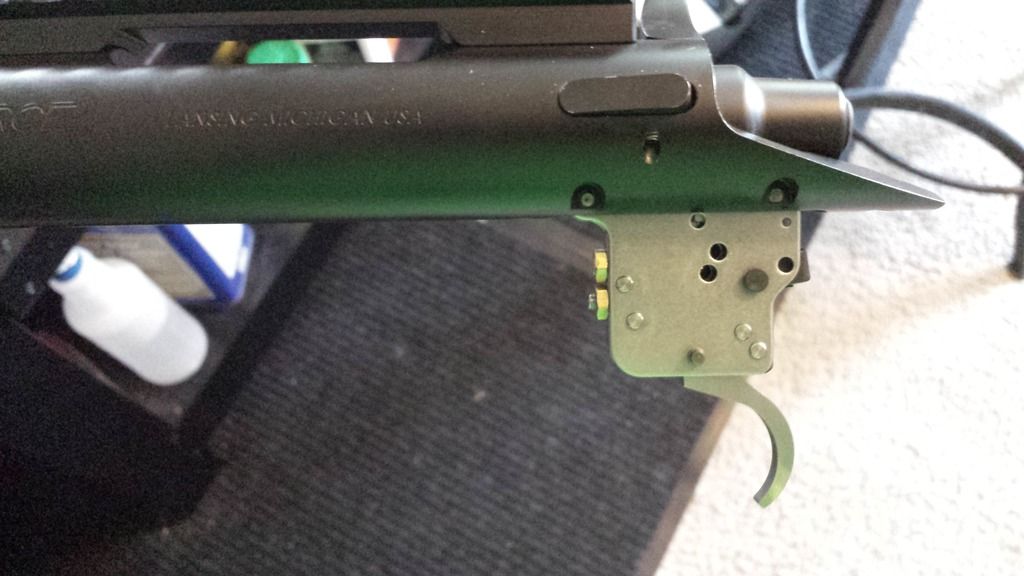 I had to buy a Rifle Basix safety kit for the trigger as it ships without safety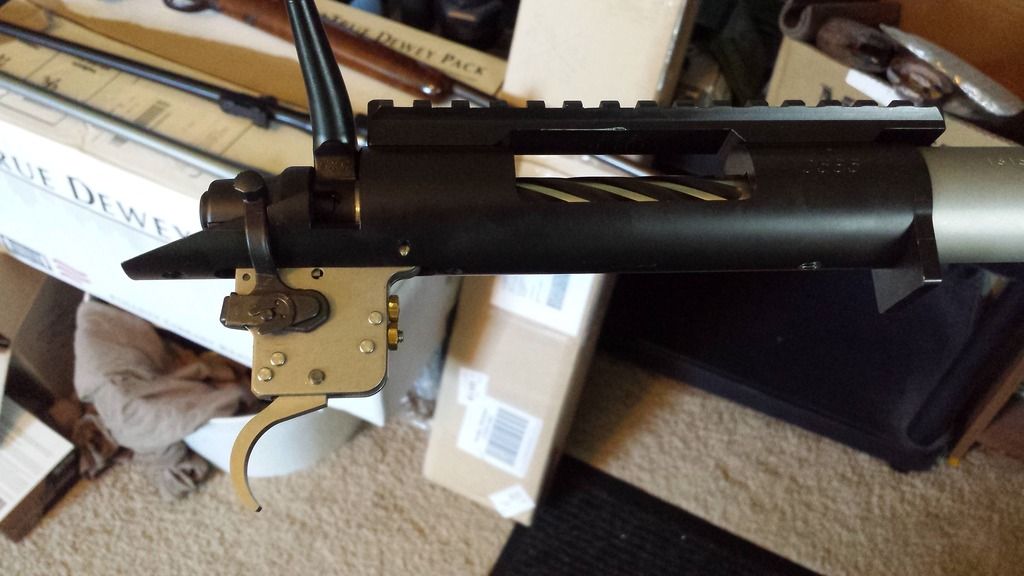 I'm going to shoot it as is just to do a before and after test, non-bedded vs bedded. I have the pillars, I just need to take care of the inletting, and glue it all up. I just need to go buy a 1/4" drive socket (thanks for the heads up Bill) so I can pull the breech-plug and clean the barrel prior to test firing.
Today was a good range day; warm but not sweltering, mirage wasn't bad until about noon and only at 300yds, and winds were steady 3mph. I took the Billy Goat Gruff (BG²) and Mike had his DMPS 6.5 Creed after swapping out the factory 5-stage trigger for a Geissele SSA-E. Once we finished up on the long range we went over to the bays and beat up a pistol rack and popper target with the belly guns.
These are the "BEFORE" bedding control targets for the BG²:
They were shot in the same order they were posted above: Hornday XTP (conducted lost zero drill, impact was 2mil right), multi-formed bullets, virgin smooth, virgin full form. After my 4th shot with the XTP my ramrod ferrule cracked loose so I had to check fire and pull my brake. I just need to tap it back into place and will probably put a tiny spot of Rocksett: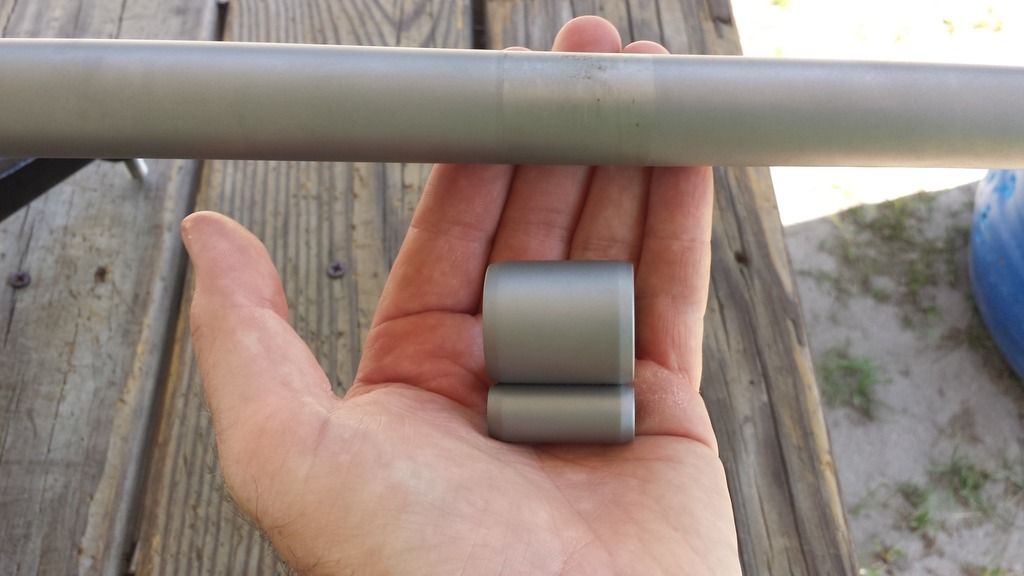 Mike also decided to brave the muzzle blast to video a shot. This video demonstrates why a good cheek weld is necessary, especially on a big gun; I think I described it as a "bobble head" effect before, First Law of Motion and all that. I need to cut the comb and install the hardware but haven't had time to do that or bed it yet. They are slow motion so skip to the last 25% if you care to watch:
There isn't much of a frame of reference here but you can see that the brake keeps the gun traveling very nearly straight back. For anyone who has shot a clean .458Lott/Win Mag/Dakota/etc you know they have quite a bit of muzzle jump and these SML are pretty similar:
I took a short break to put some rounds down range with Mike's 6.5 Creed, one each from Mike and myself(good catch Jims, I don't number so good sometimes) :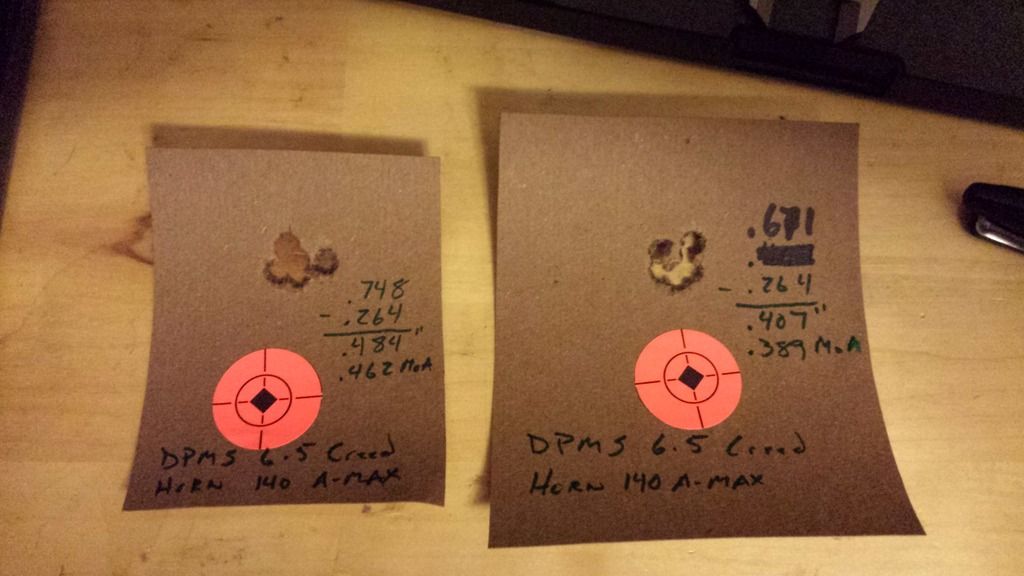 Mike also dug a few of the 316gn BOMBs out of the berm. Dirt berms are not good representations of flesh and bone but they do put a bullet to the test when it is still screaming along. I can only describe them as "violent":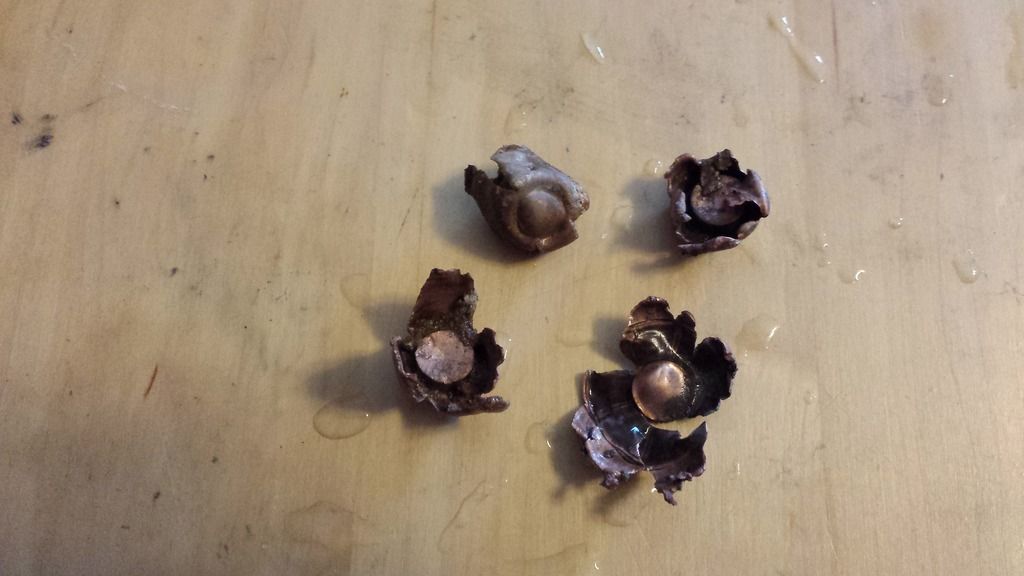 Hopefully, next weekend I can get it bedded it then shoot the "AFTER" pictures and get on to doing a load ladder instead of arbitrary charges for proof work.
Well, 6 months or so later I finally have a truly free weekend. Got this thing bedded up:
The only real difference is when I put it all together I run a small bead of plasticene on both sides of the recoil lug to help with clean up. It makes for a clean look and no chipping of sharp edges. It is also easier than using a scraper to clean it up: