Post by encore50a on Jul 10, 2021 5:44:53 GMT -5
A controlled test of bullet loading forces, bullet to bore only, was completed today. July 9, 2021.
Most muzzleloader hunters and shooters understand that consistency in everything we do is the key to better, or significantly improved accuracy and also safety.
The intent of this testing was to verify under controlled conditions, if changes in bullet loading forces would affect group sizes or create substantial changes in velocities.
All testing was completed using 120grs volume of BH209 from a 5 pound bottle of Lot #31. Ten volume charges were thrown and each weighed, then averaged. The average came out to 85grs by weight. All charges used in testing were weighed to exactly 85grs by weight.
The bullets in this test consisted of both thinner jacketed bullets and heavier jacketed bullets. The thinner jackets were Pittman 300gr Acumax with .015" jackets. The heavier jackets were Arrowhead 300gr XLD with .021" jackets. ALL bullets were shot using a wool wad.
Loading force……. Loading forces were verified using a Wagner precision force gauge. Loading forces were verified by the slow movement of a sized bullet down the rifle's barrel using the force gauge attached to the ramrod. Force was verified loading the bullet in a CLEAN BORE.
Bullet sizing……….. What has been identified and verified by two different shooters with precision force gauges is that if bullets are sized 5 times that they will all load at identical force in a clean barrel. The sizing die was set so that the target force was met after 5 passes through the die. It is known that sizing bullets with just a single, or even up to three passes, that the force to load the bullets will vary +/- 3# or more. Example: If your target loading force, actual or perceived is 15#, without multiple passes through the die, the force could be 12# with one bullet and 18# on the next. Remember, it's all about consistency, right?
Finished size loading forces…………. Five Acumax bullets were sized to load at 8#, five more at 13# and another five bullets at 18#. The XLD bullets were sized to mirror those loading forces of 8, 13 and 18# with five bullets each. Total rounds fired, including 5 fouling shots was 35 rounds.
Group sizes and Velocity………. A Caldwell Precision Pro chronograph was used to identify velocity. Group size is identified by individual targets.
Range……….. All targets were posted at 300yds.
Rifle……….. DUNAMIS. 45cal, 1:19 twist 8r, Rock Creek barrel. No muzzle brake. ASG module ignition with Federal 215M Match primers. Shooting completed using a bipod and rear rest and off a bench.
Swabbing…………. A dry patch was run down and out between rounds.
Fouled barrel loading……….. With both the different bullets, the 8# and 13# loaded at +/- 20#. The 18# bullets loaded in the fouled barrel 30 to 35#.
Bullet seating………… The force gauge was used and EVERY bullet was seated on the wad/propellant at 40#.
Weather Conditions…………… Wind was averaged at 2.1mph out of the NNW with gusts to 6mph.
What this testing is NOT………. I am in no way comparing one manufacturer's bullet to another. Absolutely ZERO adjustments were made to the scope after the initial verification on paper with the fouling shots. Does not matter where the bullets are on the target, only group size and velocities matter. NOTE: The XLD does have a slightly higher BC than the Pittman.
First photo is of the complete set of targets taped to a large piece of cardboard backer. The top row is the Pittman Acumax .015" jackets. The bottom row is the XLD .021" jackets.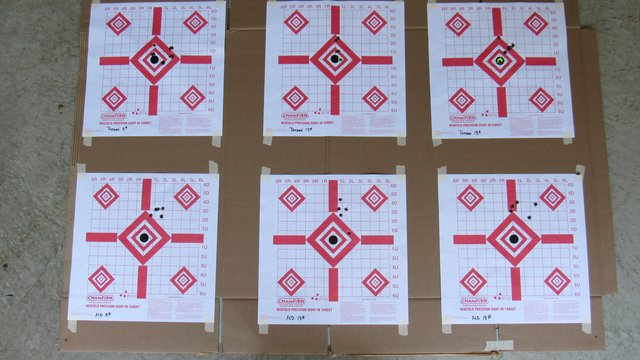 Individual targets/forces......
Pittman 8#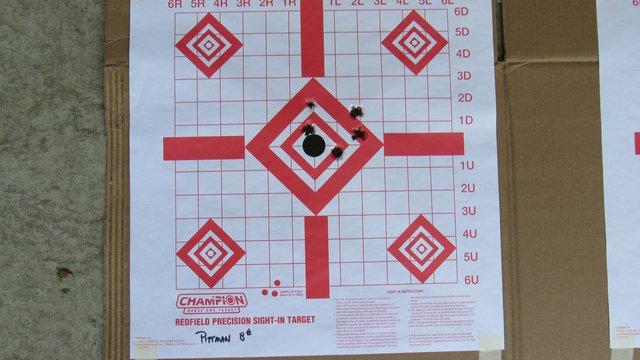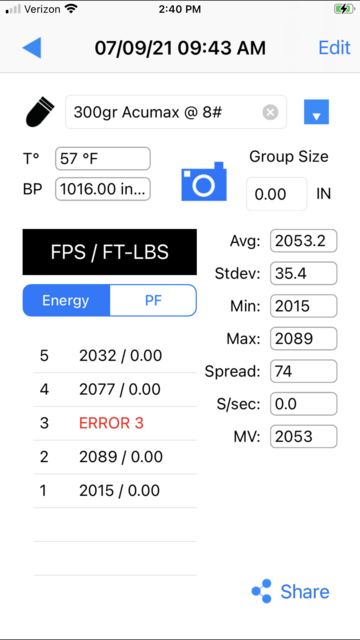 Pittman 13#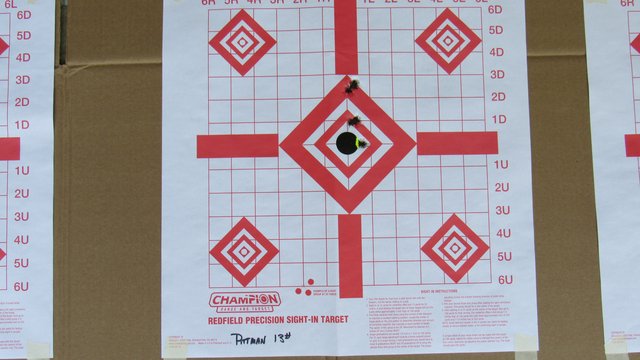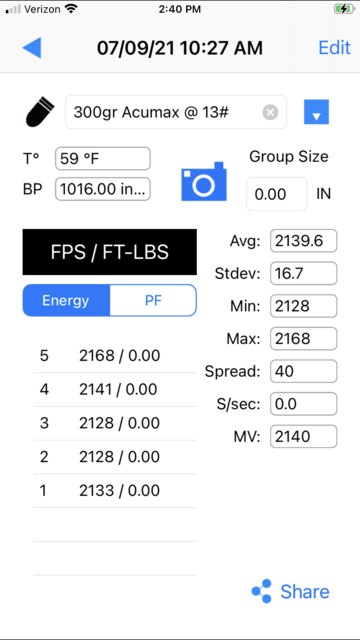 Pittman 18#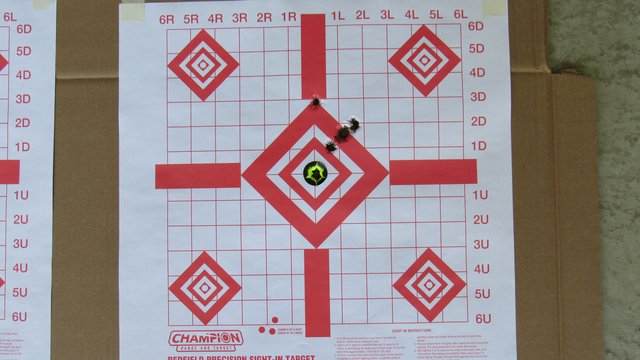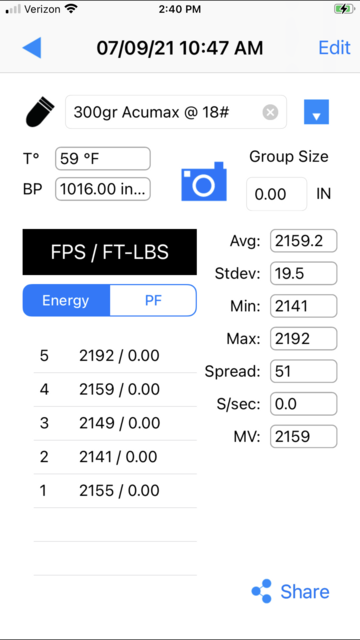 THE XLD at 8#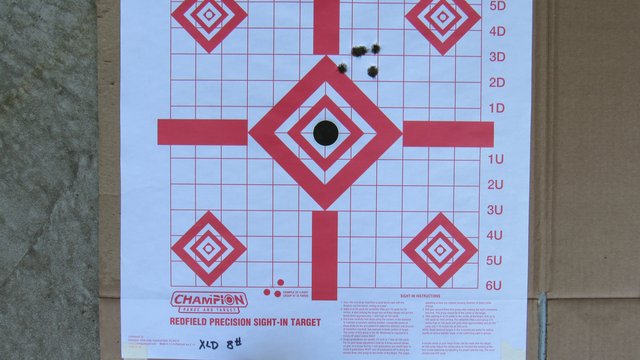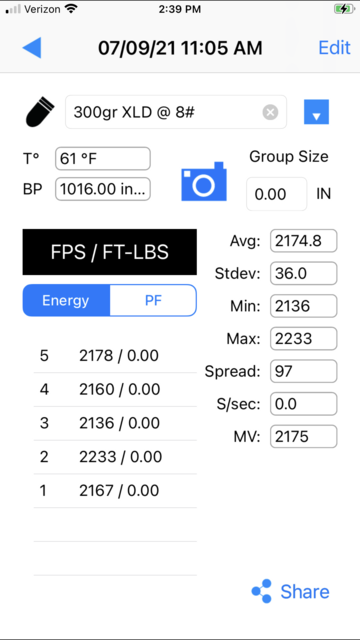 XLD at 13#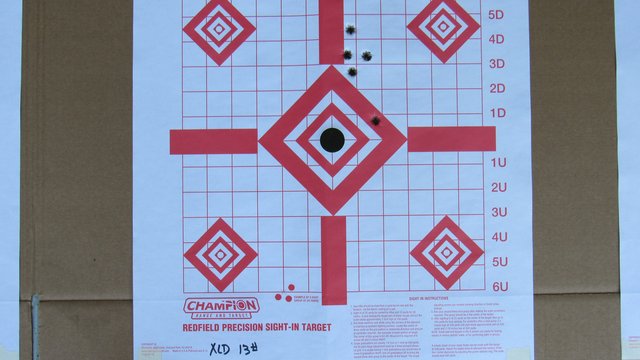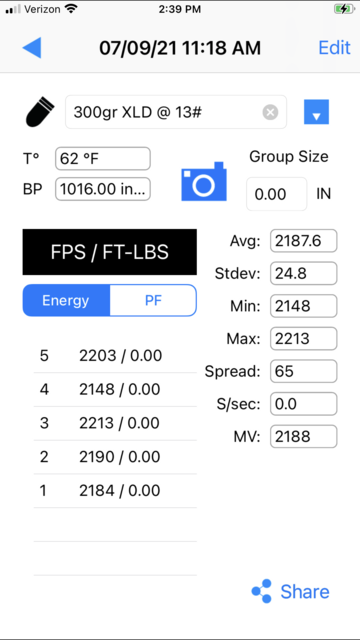 XLD at 18#