Post by sew on Dec 5, 2018 9:59:43 GMT -5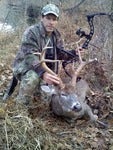 These days one of the major deciding factors as to what fletch and broadhead I shoot is how much noise it makes, yes it has to do the job effectively and accurately but noise figures into the mix as well.
Yes I like a quiet bow as much as anyone, all I'm saying is a quiet arrow is just as important as a quiet bow.
'We share similar backgrounds. I've bow hunted almost since I was an embryo (1957 - 10 years old). The last 35 with Black Widow, then Palmer Classic (both recurves) and crossbows .
The recurves 35 yards and down. Yes, string jumping is real, I think.😊 But, I wonder just how much it is really from arrow noise. The string twang from a near by source is startling to a deer. So, this "jumping the string/ducking the arrow is real to me (slow and noisy - feathered, vented vanes on fixed BH).
Crossbows can be a much different story. Arrow flight can be virtually silent. Vanes - very low profile, very stiff and thin, offset or very light helical. Broadheads - non-vented, fixed (even some vented), very low profile, non-offset exposed blades on expandibles can also be virtually silent inflight. Crossbow noise - can certainly cause a deer reaction out to 30-40 yards. However, beyond 30-40 yards, the crossbow noise virtually always causes the deer to freeze in place or not notice at all. I've never seen any reaction other than that.
'Arrow design for crossbows can result in a very flat shooting arrow that flies virtually silently.
'There is no one right way to "do" archery, including crossbows. Heavy arrow/broadhead combinations and light, very fast arrow/broadhead combinations each have supporting arguments and hunting environments . Personally, I have setups at both these extremes. The hunting situation dictates the setup I use . You don't take a 22-250 AK Imp with a 80g bullet in very dense hunting environments nor a JD Jones Whisper for beanfield situations. The same with crossbows.
So, I agree mostly with the above except, if shooting beyond 30-40yards, arrow noise greatly outweighs bow noise. As arrow editor/writer for Crossbow Magazine, I address arrow design, broadhead selection, etc in a number of my articles. The magazine can be viewed online at no cost.
I respect all comments made in this thread. There is no one correct answer.